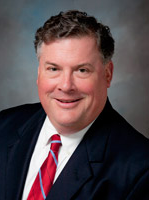 When this district was more Democratic, it was home to longtime Port Arthur State Sen. Carl Parker (D). In 1992, he had defeated Republican Michael Galloway by a 55-45 margin. Knowing how Republicans hold grudges, you could see the rematch coming. Galloway ran again in 1994 and defeated Parker by a little over 8,000 votes in a Republican wave that also saw a drop-off of about 60,000 votes from 1992. Republican Michael Galloway held this seat for one term before losing to Democrat David Bernsen. Bernsen seemed like he could have held this seat for a good while, but he opted to run for Land Commissioner in 2006 versus a second term. That year Republican Tommy Williams took this seat for the Republicans and has been here since.
2012
President
Romney - 70%; 216,087
Obama - 28.8%; 88,832
U.S. Senate
Cruz - 69.1%; 210,826
Sadler - 28.8%; 87,824
Which state fits the bill for Senate District 4?
The lucky state is Wyoming, which gave Romney a victory by
40.82%
. Romney carried SD 4 by
41.2%
and Cruz by
40.3%
.