Not exactly earth shattering news here in Texas, but homophobia is alive and well in the Texas Legislature.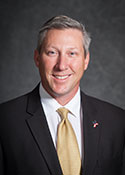 One of the Homophobic Heroes this session is
Rep. Drew Springer (R-Muenster)
. As of right now, his only press release on his state web page is one touting his filing of HB 1568. What is HB 1568? According the the Legislature website it's a bill, "Relating to funding under the Foundation School Program for a school district that offers insurance benefits to a person who is not a dependent of a district employee." In other words, we don't want gays giving their partners health insurance. No doubt, if he could, he'd probably outlaw gays in general getting health insurance...or anything beneficial for that matter.
What bee got in Rep. Springer's bonnet? That bee would be Pflugerville ISD and its health benefits for domestic partners. From the
Texas Tribune
:
The board of trustees of Pflugerville ISD made history in December 2012 with a 5-1 vote, becoming the first school district in Texas to offer health benefits for domestic partners.

"I think the money we give to educate our kids should go to the kids and not trying to expand social benefits that we decided in 2005 was unconstitutional," Springer said Thursday, referring to the Defense of Marriage Act of 2005, which defined marriage in the Texas Constitution as between one man and one woman. "We're not taking away all the funding, just the 7.5 percent that goes to the health benefit plan."
Here's the kicker though:
Opponents of Springer's bill argue that it mischaracterizes the school's health plan policy. "No tax dollars are being used," said Chuck Smith, president of Equality Texas, an LGBT lobbying group. Smith said that no money is taken from funding the classroom, but rather the policy "allows access to the benefit plan, but the employee still pays the premium."

"It's yet another legislative overreach, and it seeks to undermine local control," Smith said of Springer's bill.
Just as an aside, Rep. Springer comes from that bustling metropolis of Muenster, TX. Never heard of it? That's understandable. As of the 2010 Census it counted 1,544 people in its population. Just as an FYI, the
2011-2012 enrollment figures for Pflugerville ISD
listed 3 schools that had a larger student body than Muenster had people: Pflugerville HS, 2,293; Hendrickson HS, 2,291; John Connally HS, 2,008. Another 3 schools had nearly the same student population as Muenster: Kelly Lane MS, 1,153; Pflugerville MS, 1,039; Dessau MS, 1,019. Altogether Pflugerville ISD has 23,287 students.
This may seem like small town bashing and so be it. There may be a time and place for small town values (like valuing mom & pop shops over Wal-Mart), but in this case Rep. Springer needs to take his small town values back to Muenster and keep them there and leave Pflugerville ISD alone.
To sum up, government intrusion and overreach is okay as long as 1) it tries to outlaw to abortion or 2) it goes after GLBT.
As an aside, just to state for the record, the Tribune listed 3 cities that have domestic partner benefits for their employees: Austin, El Paso, and Dallas. Just like to also mention that San Antonio is one of those cities as well.