2 questions: Where are the House Republican Women? and Why are there House Republican Women?
After a campaign where we had too many Male Republican candidates offering their "special views" on rape.
Then word from the Speaker's office that
only one committee, House Administration, will be chaired by a woman
. As one person described it, the secretarial committee.
The latest is the failure of the Republican House to reauthorize the Violence Against Women Act
.
It seems the Republicans are planning to continue their successful War on Women. Rape, only 1 committee chair, and the Violence Against Women Act.
Once again: Where are the House Republican Women? and Why are there House Republican Women?
All these smiling women have decided that party comes first. What's good for the party is good for the country. All these women said violence against women is fine with them.
Sandy Adams, Florida; Michele Bachmann, Minnesota; Judy Bigget, Illinois; Diane Black, Tennessee; Marsha Blackburn, Tennessee; Susan Brooks, Indiana; Ann Marie Buerkle, New York; Renee Elmers, North Carolina; Jo Ann Emerson, Missouri; Virginia Foxx, North Carolina; Kay Granger, Texas; Vicky Hartzler, Missouri; Jamie Herrera Beutler, Washington; Lynn Jenkins, Kansas; Cynthia Lummis, Wyoming; Cathy McMorris Rodgers, Washington; Candice Miller, Michigan; Shelley Moore Capito, West Virginia; Sye Myrick, North Carolina; Kristi Noem, South Dakota; Martha Roby, Alabama; Ileana Ros-Lehtinen, Florida; Jean Schmidt, Ohio; Ann Wagner, Missouri; and Jackie Walorski, Indiana.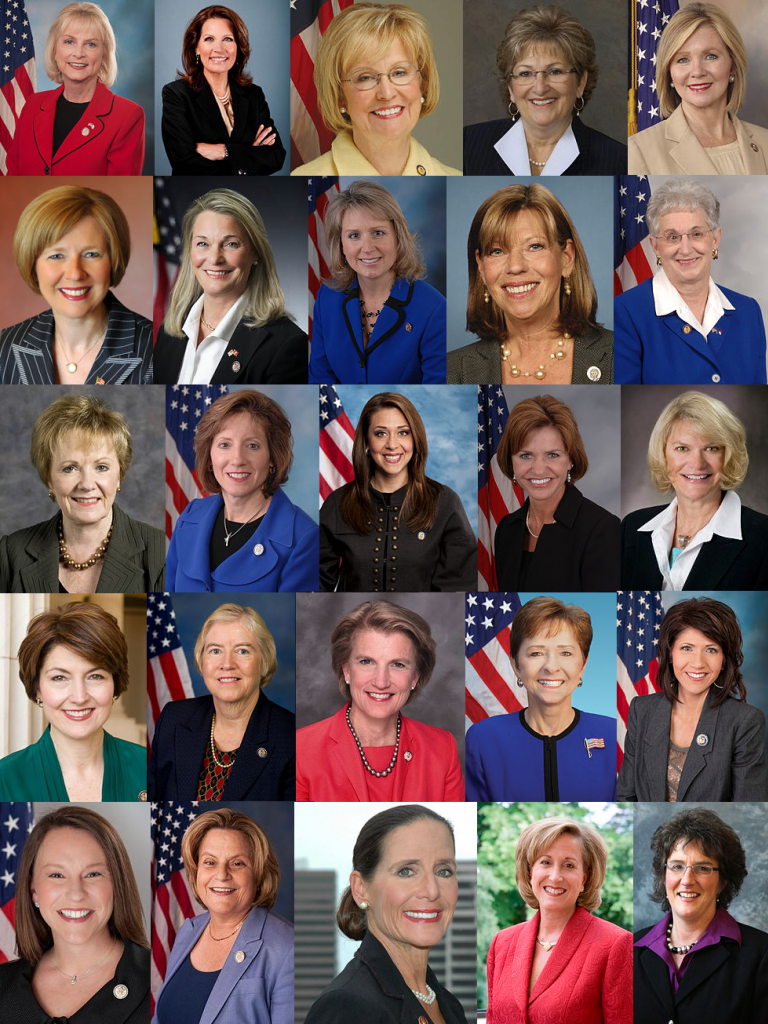 This is a compilation of the Republican House women from both the last Congress and the new Congress, because both are to blame. The women from the previous Congress for not pushing to get this bill passed, and the new ones for voting to keep the status quo, i.e. voting to keep John Boehner as Speaker. One of these women, Cathy McMorris Rodgers, was the nominator for Speaker John Boehner. Party position over country.
None of these women pushed for this bill
. Where were the press conferences? The nightly appearances on news shows? The daily ruckus raising? Instead, just a few simple statements in support of reauthorization. Guess they couldn't be bothered with doing anything else.
What would be worse, is if any of these women were the victims of violence. Those women should have been the ones out there pushing it because they would know the need for it. We elect our representatives be a voice for their constituents and to fight for their constituents. It may be hard for them to talk about, but we don't send our representatives to Washington to do an easy job. If you can vote to send soldiers, men and women, off to die, you should be able to stand up and speak about why violence against women is bad.
Back to the 2 questions: Where are the House Republican Women? and Why are there House Republican Women? Apparently the House Republican women are fine with keeping silent, which begs the question, what's the point of there even being any Republican women if they're not going to stand up for women?