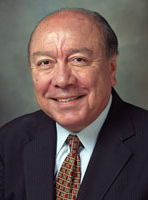 Senate District 20 is based in South Texas and has been represented by Democrat Juan "Chuy" Hinojosa since 2003. Prior to Hinojosa, Democrat Carlos Truan held the seat from 1977-2003. Not much to tell about this district, although one of it's previous occupants did cause some trouble in the Legislature. John Dancy represented SD 20 for 1 term back in 1851-1853. Dancy then was elected to the State House of Representatives for 1 term (1855-1857). While in the State House, Dancy had some trouble during the session. From the House Journal 8/21/1856:
The Speaker called Mr. Dancy to order, stating that it was out of order for any member of the House to set within the bar of the House, during the session thereof, without his coat.
Mr. Dancy appealed the decision of the Chair, whereupon the yeas and nays were called, and the House sustained the decision of the Chair,...
Four days later during a call of the House:
On motion of Mr. Poag, the Sergeant-at-Arms was dispatched after Mr. Dancy, who made his escape through the window.
Interestingly enough, from the House Journal on that Aug. 21 day:
The Joint Committee on Enrolled bills have examined the following bills, and find them correctly enrolled:
An Act to create the county of "La Salle."
An act to create the county of "Brown,"
An act to create the county of "Palo Pinto."
An act to create the county of "Jack."
An act to create the county of "McCulloch."
2012
President
Obama - 57.1%; 107,629
Romney - 41.6%; 78,474
U.S. Senate
Sadler - 54.4%; 99,706
Cruz - 43%; 78,736
Which state goes here?
As Maine goes, so goes the nation. Obama carried Maine by
15.29%
and he won this district by
15.5%
. Sadler won here by
11.4%
.